What is Servo Voltage Stabilizer?
A servo voltage stabilizer is stabilizers, which constantly monitors as well as provide the constant output voltage. In addition, it controls the variations in the input voltage by the movements of a motor. Motor Movement is either in Clockwise or in the Anti Clockwise direction.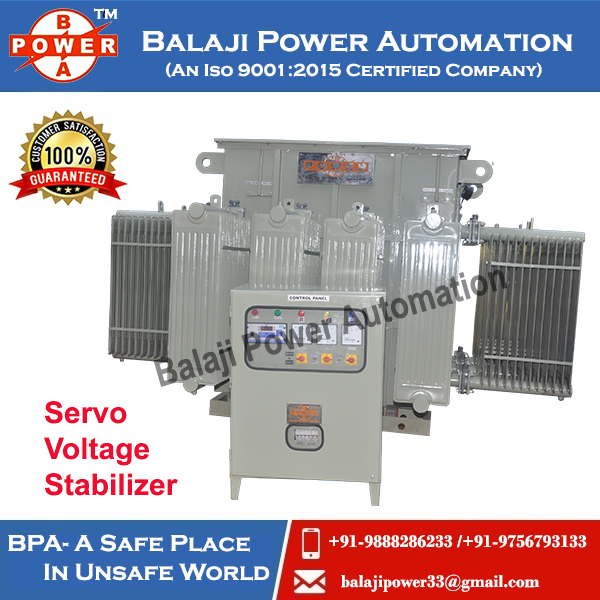 In short, it automatically regulates the voltage. It also considers a cheap as well as a good voltage stabilizer. Moreover, this is a perfect solution to protect the appliances from voltage fluctuations.
Thus, We Balaji Power Automation are leaders in servo voltage stabilizers manufacturers in Delhi, India, And offer best Servo stabilizers.
Types Of Servo Voltage Stabilizer?
Basically servo voltage stabilizer is of two type on basis of Voltage:
LT Servo voltage stabilizer/ Regulator
HT Servo voltage stabilizer/ Regulator
LT Stabilizer/Regulator:
LT Automatic Voltage Stabilizers hold their potential too for units having either LT Supply or low capacity HT connections also. In short LT Servo Stabilizers prevents direct exposure of fluctuating voltage to critical electrical equipment in any establishment.
It also prevents frequent tripping of overload and over/under voltage relays to ensure uninterrupted production. These designs for Balance Supply & Unbalance Loads as well as Unbalance Supply & Unbalance Loads. Even so, The range of input supply for the stabilizer depends upon the voltage condition at the supply point.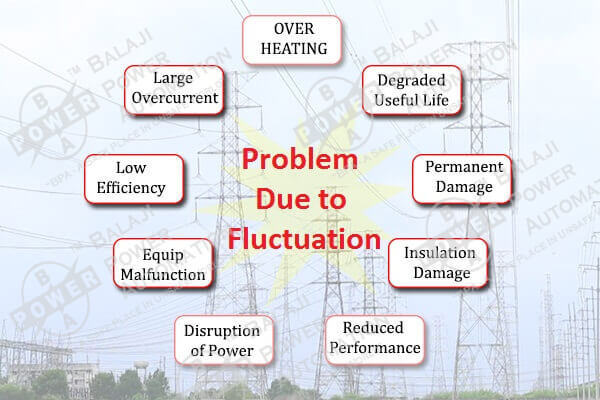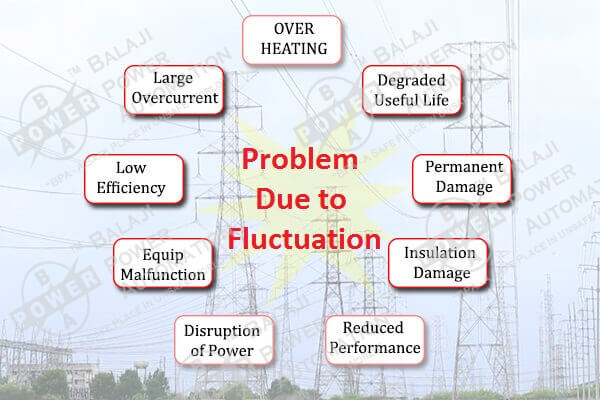 HT Stabilizer/Regulator:
In short, the High Tension Automatic Voltage Regulator or built-in AVR is the high-tension stabilizer. Whose job is to protect the electrical/electronic devices & to conserve energy also by supplying a stable and continuous input voltage. We at Balaji Power Automation, manufacture a wide range of HT-Automatic Voltage Regulators.
Usually, a distribution transformer generally Steps-Down the voltage from H.T. to L.T. However, it cannot take care of the fluctuating voltage and most of the time and at most of the sites. In addition, It realizes that the problem of fluctuating voltage remains, which resulting in improper function of electrical systems.
Thus HT Transformer with Built-In HT Automatic Voltage Stabilizer provides total solutions for voltage fluctuation and stabilization. Actually, the unit is a combination of HT Automatic Voltage Stabilizer as well as standard Distribution Transformer working in conjunction.
What is the importance of a servo voltage stabilizer?
It is always important that you have an electrical supply with a steady voltage. However, Fluctuation is Occurs due to Long Transmission Line in India as well as in World.
Industrial motors are heavy motor, which needs very stable AC voltage & current all the time for a smooth function. However, as usual due to fluctuation, the industries have to face a huge loss. Due to High/Low Voltage Supply, the failure of the motor or voltage-sensitive devices Occurs. The Whole Production Unit effects due to this.
A stabilizer is highly important for optimum performance of any electrical/electronic equipment that also maintains input mains voltage stability. For overcoming such a grave situation, choose Balaji Power Automation Voltage Stabilizer.
Therefore, as Servo stabilizer manufacturers, we ensure that the load is operating within safety limits. And machines operate at a better efficiency with avoiding losses by choosing our Servo Stabilizer.
Especially, When you have a workplace running 24/7, the Servo voltage stabilizers are Highly recommending. Moreover, We Servo Stabilizer India offer Servo Voltage Stabilizer for all industrial needs
Why Balaji Power Automation Servo Voltage Stabilizer?
Balaji Power Automation as leading servo stabilizer manufacturers based in Ghaziabad, India as well as in the world. We also offer stabilizers that have user-friendly for reading input and output parameters. We also as servo stabilizer manufacturer offers technologically enhance an important indication features. Like mains ON, overload, over-voltage, under-voltage trip, output ON and single phasing as Optional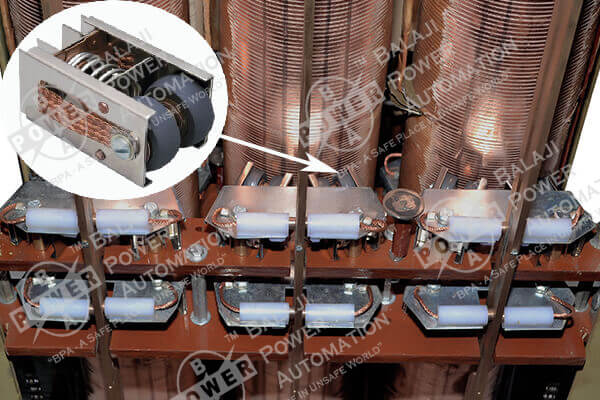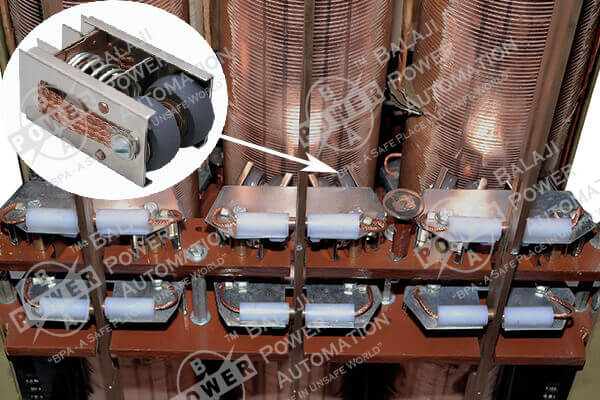 Technical Specification:
| | |
| --- | --- |
| Make | Balaji Power Automation |
| Rating | 30 KVA – 1000KVA (10MVA) |
| Input Voltage | 340 V to 460V or Optional |
| Input frequency | 50 Hz. (Or As per Required) |
| Output Voltage | 400/ 415V ± 1% or Optional |
| Cooling | Oil Cooled(ONAN) / Air Cooled(AN) |
| Controls | Auto / Manual/T-Handel |
.
Need of Voltage Stabilizer?
Although, there is no surprise in saying that voltage stabilizers use for providing right and stable voltage. To different types of electrical appliances. The electrical equipment is design for a wide range of input voltage. So, depending on the sensitivity working range of appliances is limit. Therefore, voltage stabilizer helps in ensuring that fluctuation in voltage does not affect the load of the electrical appliance. At the coming power supply.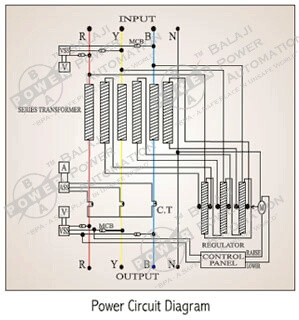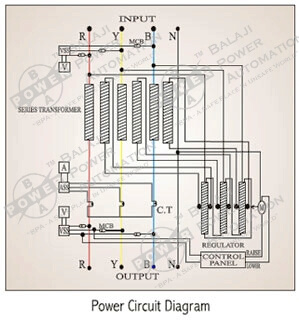 Components Of Servo Stabilizer Or Automatic Voltage Regulator.
Servo motor controlled Automatic voltage stabilizer consists of following components There are main components in a Linear servo voltage stabilizer:-
(Please refer servo stabilizer circuit diagram shown below)
Linear ± Type Vertical Rolling contact voltage Regulator
Double Wound Buck /Boost Transformer
Servomotor – Synchronizing Motors.
Electronic Control Circuit and meter panel
Linear ± Type Vertical Rolling contact voltage Regulator:
This is Vertical in shape & this Section consists of an Electrolytic grade rectangular copper strip instead of copper wire. To minimize the losses & increase the efficiency of the equipment. When the Vertical Coils ready then it dips in transformer varnish to enhance the life of the coil.
Basically this consists of the Carbon Roller Assembly. The Carbon Roller is Moving part in servo stabilizer. The voltage fluctuation totally depends on the carbon roller. So, as a servo stabilizer manufacturer, we suggest & use the high-Quality carbon roller of Reputed manufacture in India. Actually, This is also self-lubricating carbon roller assemblies, which offer more reliability and trouble-free performance of the Equipment.
Double Wound Buck /Boost Transformer:
This Transformer connects between mains input and output of load terminals. This knows as Series Transformer also. Especially, We are using CRGO lamination to minimize iron losses & coils of Buck/Boost transformer. This also contains the heavy section of multi strips, electrolytic copper, to minimize copper losses. For getting better efficiency of the equipment too.
Servo Motor- Synchronizing Motor:
The Servomotor is an also valuable part of the servo stabilizer. Because of the motor move in either clockwise or anticlockwise direction. This moves the carbon roller assembly in Vertical Upward or downward according to the input voltage. Generally, Servo motor is an AC Synchronous motor that fits on top of the Voltage Regulator part.
Electronic Control Circuit and meter panel:
Especially, the Electronic control circuit is the main part of servo stabilizers. Because of its analysis of the input voltage & feeds the signal to various parts like Servo motor, Regulators, etc.
So, all parts work according to that signal after that we will get a constant output voltage.
Balaji Power Automation Meter Panel also consists of a very simple electronic control circuit. For monitoring and also controlling voltage, repair & maintenance of which is very easy.
Working of Servo Stabilizer Or Stabilizer.
Everyone is having doubt, how servo stabilizer work ? Actually
Visit our company or Contact us..
Features Of Servo Voltage Stabilizer
In addition to the basic design features. We also provide some optional features as per the need of our customers. Likewise the alarm system for indicating high & low input voltage, digital voltmeter and ammeter, MCCB, and single-phase preventer.
Especially, Servo Stabilizer India relies on proper testing methods to ensure that the product you receive is good functionalities. And also performs for a long period protecting your equipment from external hazards. For easy working, the stabilizer mode of working can be select as an auto-manual selector or manual function also. During the automatic control fault and failure without compromising the efficiency of the stabilizer.
In addition to this, We have a huge trust in the market. And proud to announce that as Servo Voltage Stabilizer Manufacturers many industries also rely on our expertise. And also knowledge to achieves a safe and reliable electrical solution for your business needs.
Why Balaji Power Automation Stabilizers?
More than 20 Years of Experience
Manufactured up to 10000 KVA(10MVA)
State of the art infrastructure
Highly skilled workforce
Timely delivery as per specify
Prompt after-sales service
Applications of Servo Voltage Stabilizers
Pharmaceutical Units
Cold Storage
Rolling Mills
Textile Mills
Paper Mills
Tube Mills
Rice Sheller
Rubber Industries
Food Processing Units
Oil & Vanaspati Plants
Hotels
Distilleries & Beverages
Hospitals & Nursing Home
Glass & Chemical Industries
Rice & Steel Plant
And Many More….
Advantages:
If you install our stabilizer you will save up to 5% to 10% of the Electricity.
Reduction in Electricity bill automatically due to this.
It also helps in the reduction of the break down of the electrical equipment.
Better current-carrying conductor because it uses copper strip instead of copper wire.
The operation of servo stabilizer either by the automatic controller, motor control, or manual operation by Handle.
Also, it helps in the improvement of the power factor up to 10-15%.
While installing stabilizer Indoor.it increases the life of the stabilizer.
The Efficiency is approx. 98% to 99%.
Also, Life of Automatic Servo Voltage Stabilizer under normal working conditions is 15 – 20 Years.
Above all advantage, make us leaders in servo voltage stabilizers.
OUR SUPPLY NETWORK :
Andhra Pradesh, Arunachal Pradesh, Guwahati, Assam, Sikkim, Nagaland, Mizoram, Gandhinagar, Kanpur, Varanasi, Patna, Agartala, Karnataka, Lucknow, Punjab, Goa, Tripura. Bhubaneswar, Hyderabad, Bhopal, Indore, Dehradun, Rajasthan, Kerala, Moradabad, Mumbai, New Delhi, Ludhiana, Jaipur, Chandigarh, Pune, Rudrapur, Tamil Nadu,
Bangalore, Chennai, Orissa, Srinagar, Meerut, Kolkata, Guwahati, Chhattisgarh, Kohima, Ranchi, Pondicherry, Gujrat, Arunachal Pradesh, Bihar, Madhya Pradesh. Maharashtra, Nagpur, Raipur, Thiruvananthapuram, Daman, Sri Ganganagar, Jammu & Kashmir, Uttar Pradesh, Silvassa
EXPORT NETWORK :
Afghanistan, Algeria, Angola, Australia, Bahrain, Bangladesh, Bhutan, Botswana, Canada, Boston, Egypt, Cairo, Manama, Lagos, Ikeja, Dubai, Uae. Sydney, Sharjah, Abu Dhabi, Sudan, Dhaka, Bangladesh, Nepal, Bhutan, Sri Lanka, Ghana, Israel, Kenya, Lebanon, Malawi, Malaysia, Mozambique, Oman, Namibia,
Nigeria, Qatar, Russia, Singapore, Saudi Arabia, Dammam, Kaula Lampur, Indonesia, Vietnam, Zimbabwe, South Africa, Thailand, United Arab Emirates, Uganda. United Kingdom, UK, United States, Tanzania, Chile, Peru, Yemen, Zambia, Panama, Bahamas, South, and Latin America
Social Share:
What Is The Need Of A Stabilizer?
Servo Voltage Stabilizer is a device, which performs its function with the help of its well-built servo motors that help to maintain stability in the voltage and let your device perform its task trouble-free. Its main function is to stabilize the voltage and protect the electronic equipment from getting damaged. It also saves energy and reduces your utility bills because of its low power consumption feature.
How To Select The Right Stabilizer For Your Application?
No doubt, different appliances need a different rate of voltage and, therefore, choosing the right of its type is necessary to take benefits from it. Its selection is very easy and based on its input and output voltage rating, KVA rating, type of load, voltage, cooling, and protection needed by your device. You have to acknowledge them well before purchasing, or you can also communicate Servo Voltage Stabilizer.