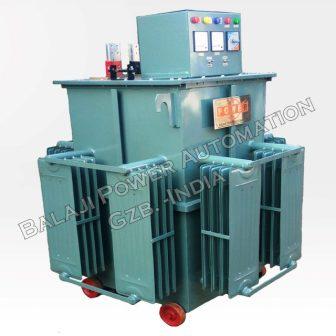 Electroplating Rectifier Manufacturer 
Balaji Power Automation is a top brand name in the field of Electroplating Rectifier Manufacturer. As well as we are the leading Electroplating Rectifiers manufacturer in India. Moreover we as the reputed Electroplating Rectifiers company are offering a wide range of Electroplating Rectifiers. Our Electroplating Rectifiers are very much efficient at the conversion of Alternate current to the Direct current because of Linear Rolling contact technology.
Electroplating Rectifiers manufactured by us are widely used in Anodizing, Hydrogenation and various electro-chemical processes as well as all other Electroplating process. At different output DC voltage, tailor made Electroplating Rectifiers are offered by us with a between 25 Amps to 25000 Amps.
What is DC Electroplating Rectifier ?
Rectifier is a transformer that converts A.C. into D.C. Supply.It is used in Electroplating, Anodizing, Hydrogenation and all other Electroplating Processes. We can provide different output DC voltage as per requirement of customers.
Oil Cooled Rectifier:
We manufacture Oil cooled rectifiers with different specifications as per the requirements of clients. Our Oil cooled rectifier is very efficient for low power consumption. We provide the Industrial Rectifier transformer of the finest quality with minimal maintenance and simple installation process. At a low voltage level, Industrial Rectifier transformer supplies the necessary power. Rectifier transformer is also available which comes with optimum performance and compact design. High current rectifiers which are offered by us can be very useful wherever high currents are in need. Rectifier transformers can be used in the processes of smelting operations, large variable speed drive trains, dc traction, electrolysis etc.
However standard rating available are as under :
| | |
| --- | --- |
| On Load Volts | Current In Amphere |
| 8 | 250      500      750      1000    1500    2000    3000 Up to 15000 |
| 12 | 250      500      750      1000    1500    2000    3000 Up to 15000 |
| 16 | 250      500      750      1000    1500    2000    3000 Up to 15000 |
| 24 | 250      500      750      1000    1500    2000    3000 Up to 15000 |
Different Controls:-
| | |
| --- | --- |
| 15 Step Control | Range variable from 40% to 100% output D.C. volts |
| Step-less Control | Range variable from 0% to 100% output D.C.volts. |
Construction Main Transformer:-
The main transformer is a double wound over sized KVA transformer provided to step down the supply voltage to values required for BPA's Rectifier units. Electrolytic Copper Conductor is used in the winding of Transformer and CRGO lamination are stacked to reduce no load & on load losses.
Inter Phase Transformer:-
Connected between two star points of the secondary of the main transformer, the inter phase transformer improves the commutation there by increasing the ratting of BPA'S Rectifiers.
Voltage Regulators:-
The on load roller type voltage regulator used in BPA'S rectifiers manufactured by us and is 4/5 time efficient than the conventional ones.
Meter Panel:-
Best quality meters and shunts to measure the output voltage and current more accurately.
Salient Features:-
Designed for 99% continuous duty cycle
Complete design for space saving
Low power consumption
Ripple content less than 5%
The equipment can bear overload upto 25% for short period
Balaji Power Automation rectifier equipment are wound with electrolytic Prime grade copper strip to minimize power losses, in comparison to Aluminum conductor used by many other manufacturers. Our equipment are designed liberally as per capacity and are Ideally suitable for marginal over loading conditions.

We use vertical rolling contact type voltage regulator wound with heavy section of copper strips suitable for 100% continuous duty cycle or industrial applications, in comparison to conventional wire wound regulators used by other manufacturers. The carbon rollers move on both sides of the winding.

DIODES: Silicon diodes are tested in-house, similar PIV batch and same forward drop diodes are used in the equipment for equal load sharing and reducing the power losses of diodes.

LAMINATION CORE: We use imported CRGO lamination core which have minimum power losses and results in better efficiency of equipment and saving in energy bill.

PAINTS: We are painting the equipment with Epoxy paint which is resistant to acidic environment of plating process and enhance the life of the equipment by preventing it from corrosion.

METER: We use reputed make AE/RISHAB make DC meters only which are very accurate and durable.

CONSTANT VOLTAGE CONTROLLER (CVC) (OPTIONAL): We offer CVC Electronic attachment with rectifier equipment, which will maintain constant Output Voltage or current as per setting automatically irrespective of input voltage variation.

SERVICING: BPA'S have maintained enviable reputation in market in after sales service. This fact can be verified from any of our customers.