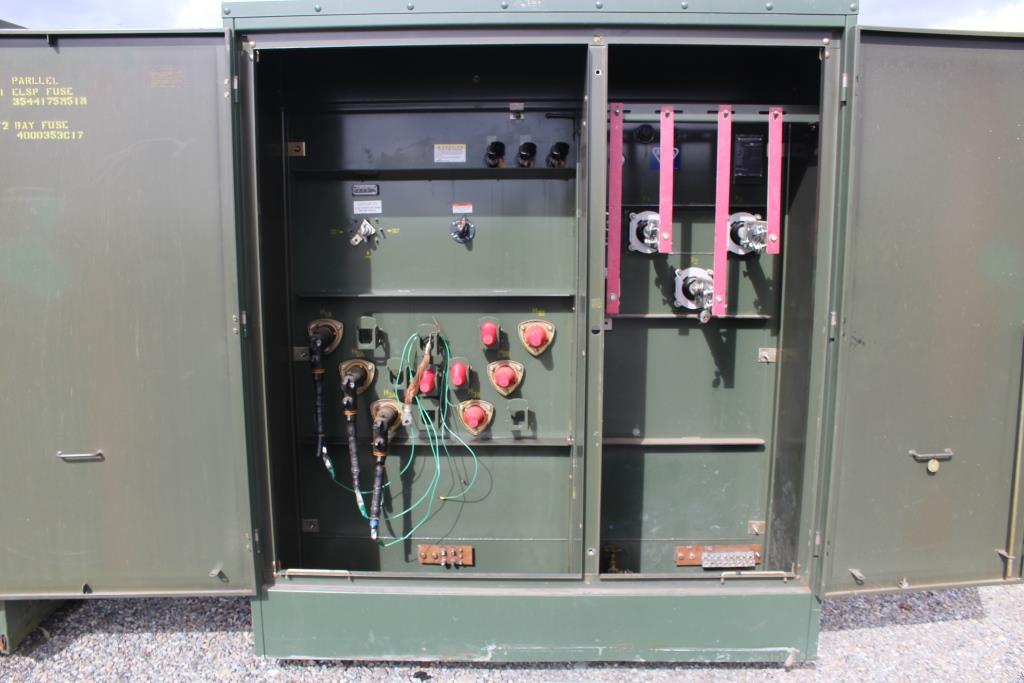 Pad mount

Transformers
With the maximum demand of pad mount transformer in the European cities & all over the world. We Balaji Power Automation introduce of launching series of pad-mount transformer.
We manufacture pad transformer as per IS 2026, IS 6600, IEC 60076, ANSI & IS 1180 standards.
RANGE : Upto 10 MVA in 46,000 Class.
What is Power Transformer?
A padmount or pad-mounted transformer is a ground mounted electric power distribution transformer in a locked steel cabinet mounted on a concrete pad. Since all energized connection points are securely enclosed in a grounded metal housing, a padmount transformer can be installed in places that do not have room for a fenced enclosure.
Pad-mount transformers are available in various electrical and mechanical configurations. Pad-mount transformers operate on medium-voltage distribution systems, up to about 35 kV. The low-voltage winding matches the customer requirement and may be single-phase or three-phase.
Technical

Specifications:
Power Rating

Upto 10,000 KVA (10 MVA)

Input Voltage(HV Side)

2400 -46,000 V

Output Voltage(LV Side)

208Y/120 V to 24,940 V

HV Connection

 

Single / Dual feeder 

HV Protection

 

Bayonet Fuses, Load Break Switch, Current Limiting Fuses, Fault passage indicator

LV protection 

MCCB / MCB / SFU / HRC Fuses

Rated Frequency

50 /60 Hz

Vector Group

According to Client's requirement

No-Load Losses

According to Client's requirement

Load Losses

According to Client's requirement 

Percentage Impedance

According to Client's requirement

Applicable Standard

IS 1180, 2026, ANSI & IEC 60076
Features:
More compact in design and suitable for Urban Distribution System
Reduced installation footprints compared to Compact Substations and Distribution Transformer
Pad mounted Transformer is fully equipped with HV & LV protections resulting in faster commissioning at site
HV and LV connections and protections are accessible through front open compartments with interlocking doors
Available with mineral oil / ester fluids
Advantage

Power Transformer:
Help to improve the efficiency of the electrical power system
Help to improve the quality of the electrical power (They do this by reducing the amount of power that is lost in transmission and by providing a more stable voltage.)
Transformer  Parts:
Dial type thermometer
Liquid level gauge
Pressure vacuum gauge
Pressure vacuum gauge with bleeder
Pressure relief device
Gauges furnished with alarm contacts.
Bay-O-Net fuses
Weak link cartridge fuses

Current limiting fuses
Loadbreak switch(es)
MOV surge arresters, including under-oil or elbow
Secondary current transformers
Secondary molded case breakers
Secondary metering compartment
Total stainless steel or hybrid (mild steel/ stainless steel) construction
Application of Padmount Transformer:
Industries,
Power Generating Stations,
Receiving Stations, Substations
Railways 
Chemical
Pharmaceuticals
Steel
Hydro Power Projects
Textile
Engineering
Plastic
Cement
Refineries
Mining
Captive Power Projects
Wind Mill Farms
Construction Houses
Pharma
Electrical,
Electronics,
Renewable Energy,
Automobile