Servo Voltage Stabilizer Manufacturer
Best Servo voltage stabilizer in India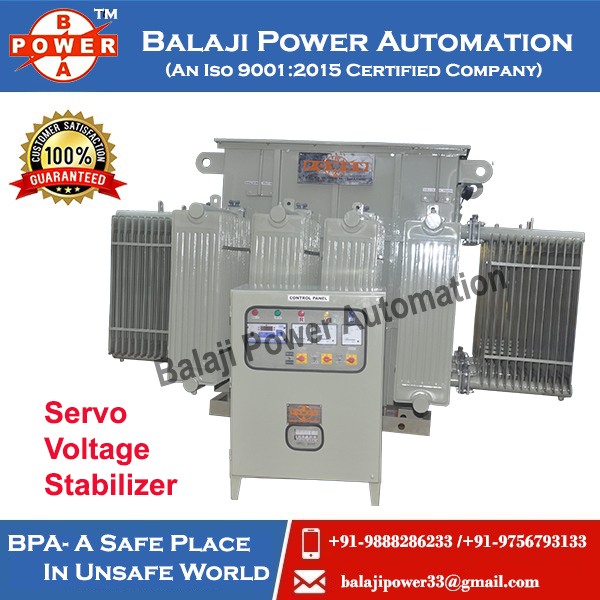 We Balaji Power Automation well know for Best Servo voltage stabilizer manufacturer in India. Basically, Servo voltage is also known as Automatic voltage Controller. Many parts of India as well as in the world it also introduces as  Voltage Stabilizer.
The main work of the equipment is to regulate and to filter the fluctuation.
Best Servo Voltage Stabilizer Manufacturer in India
We are one of the Best quality Servo stabilizer Manufacturers in India. Due to the overloading in the voltage, there is so much fluctuation in the voltage. So, to get relief from this problem we introduce an LT AVR (Automatic Voltage Regulators). Which use to protect us from the fluctuation of voltage in the electrical equipment and electronic items. We made the products according to customer preferences/needs. Our LT AVR is suitable for both indoor as well as outdoor installation.
Specifications of Balaji Power Automation as Best Servo voltage stabilizers Manufacturer in India:
| | |
| --- | --- |
| Brand | Balaji Power Automation (BPA) |
| Phase | Three Phase (3 Phase) |
| Capacity | Upto 10,000 KVA (10MVA)  |
| Class  | Upto 33 KV |
| Frequency (Hz) | 50 Hz / 60Hz  |
| Cooling Type | Oil cooled /Dry Type as per Requirement |
| Condition | New |
| Place Of Origin | Ghaziabad (Uttar Pradesh) |
| Color | Light Grey or as per required |
| Winding | Copper |
| Body Material | Steel |
| Packaging Type | Normal |
| Minimum Order Quantity | 1 Piece |