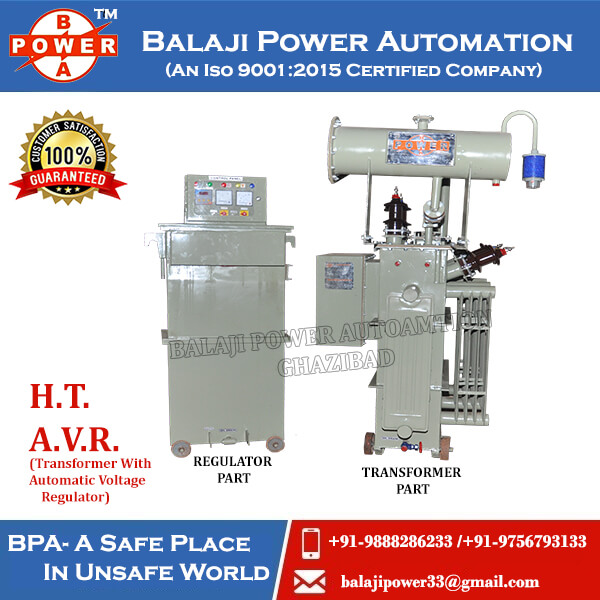 HT AVR Manufacturer
We Balaji Power Automation well know for Best HT AVR manufacturer in India. Basically, HT AVR also knows as HT Automatic Voltage Regulators. Many parts of India as well as in the world it also introduces as  HT Automatic Voltage Stabilizers.
The main work of the HT AVR is to regulate and to filter the fluctuation. Before feeding it to the transformer. The HT- Automatic Voltage Regulators mainly consist of two interconnected tanks. One is a buck-book transformer which uses for housing distribution. And the second part is for covering the servo voltage controller. The automatic voltage regulator (AVR) make to control a power transformer with the help of a motor-driven on-load tap-changer.
Best HT AVR Manufacturer in India
We are one of the Best quality HT AVR Manufacturers in India. Due to the overloading in the voltage, there is so much fluctuation in the voltage. So, to get relief from this problem we introduce an HT AVR (Automatic Voltage Regulators). Which use to protect us from the fluctuation of voltage in the electrical equipment and electronic items. We made the products according to customer preferences/needs. Our HT AVR is suitable for both indoor as well as outdoor installation.
HT AVR Manufacturer – Balaji Power Automation
HT AVR Manufacture by Balaji Power Automation makes with the copper wound strips and wires. We are one of the best HT Automatic Voltage Stabilizer manufacturers in India. Our name is growing day by day because of quality products. Due to the huge experience in the same field. We are capable to make the products according to the client's requirements because we know what clients exactly want.
Our Motive:
Our main motive is to meet client requirements. We our-self make our complete range of our raw components. And use the best quality of raw material and we buy this from our trusted vendors. We have an in- house manufacturing facility. Which helps us to provide a guarantee about the quality of the product.

Specifications of Balaji Power Automation as Best HT AVR Manufacturer in India:
| | |
| --- | --- |
| Brand | Balaji Power Automation (BPA) |
| Phase | Three Phase (3 Phase) |
| Capacity | Upto 10,000 KVA (10MVA)  |
| Class  | Upto 33 KV |
| Frequency (Hz) | 50 Hz / 60Hz  |
| Cooling Type | Oil cooled /Dry Type as per Requirement |
| Condition | New |
| Place Of Origin | Ghaziabad (Uttar Pradesh) |
| Color | Light Grey or as per required |
| Winding | Copper |
| Body Material | Steel |
| Packaging Type | Normal |
| Minimum Order Quantity | 1 Piece |
High Tension-Automatic Voltage Regulators or HT–AVR is the high-tension stabilizers. Its uses for protecting electrical equipment and home appliances from irregularities of voltage. We believe that the Customer is a God. So, we want to maintain a good relationship with the Customer for a Long Time. Providing the best Service to the Customer. We are ready to Serve Service anytime 24 x 7 to the Customers.  The Quality of the Product is our Prime responsibility to get Customer Happy. We aim to deliver the Best Products to the Customer. In Contrast, Compare to Other Products in the Market at a more reasonable price.
The construction of the HT AVR  (Automatic Voltage Regulators) done by our knowledgeable experts. It includes helical coils mounted on a conventional laminated core. On a fiberglass carrier board, the Carbon rollers gather. At the electric output terminals, the rollers connect. And it is located near to regulating coil. A large number of winding connects in parallel. To reduce the effect of core-flux fringing there short-circuits due to this it also keeps the regulator constant.
The HT Transformer is basically a combination of HT avr and standard ht Distribution Transformer. The company is an HT Transformers manufacturer with built-in stabilizers. And ht automatic voltage regulators are available in capacity up to 10000 KVA (10MVA).